A Novel
Available now in stores and online:  IndieBound, Barnes & Noble, Amazon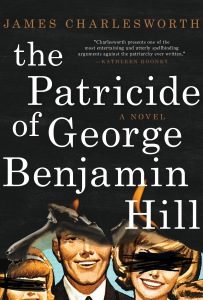 All their lives, the children of George Benjamin Hill have fought to escape the shadow of their father, a dust-bowl orphan and self-made millionaire in fast food and oil—and destroyer of two families on his way to financial success.  Now, they are approaching middle age and ruin:  a failed ex-minor league ballplayer mourning the death of his daughter in Miami, a self-proclaimed CIA veteran deciphering conspiracies in Manhattan, a Las Vegas showgirl turned old maid of The Strip, and an Alaskan bush pilot recently thrown off his land by the federal government.
While their father takes his place at the center of a national scandal, these estranged siblings find themselves drawn from their four corners of the country, converging on a three-hundred-acre horse ranch outside Omaha for a final confrontation with the father they never had.
Spanning seventy years of life in America, from the Great Depression to the age of corporate greed and terrorism, The Patricide of George Benjamin Hill is a literary suspense novel about the decline and consequence of patriarchal society; it is also an intricate family saga of aspiration and betrayal.